REMOTE DEPOSIT PROCESSING
Just imagine what your business could do with an extra 60 minutes each day. While you're thinking, allow us to introduce Remote Deposit Processing from Civic Bank & Trust.
With Remote Deposit Processing from Civic Bank & Trust, your business has desktop banking at its beck and call. Verify and process personal, business and cashiers' checks, money orders, and government issued checks. Make multiple deposits daily. All this while reducing or eliminating time-consuming bank trips and saving the expense of paper check processing.
Remote Deposit Processing. Ask a Civic Banker about bringing this program to your business.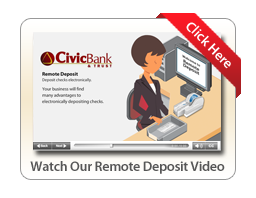 PAYROLL PROCESSING
Running a business is challenging enough without having to worry with the headaches associated with processing your own payroll. We have partnered with a payroll processor that can assure you of accurate and timely payroll processing as well as required tax filings. Let a Civic Banker make an introduction.
MERCHANT CARD PROCESSING
Civic Bank & Trust can assist you with setting up your business to accept Visa and Mastercard sales. Ask a Civic Banker about Merchant Card Processing.
TELEPHONE BANKING
Our automated telephone banking services is available 24 hours a day, seven days a week at 800-657-7709. Obtain deposit and loan account information (balances, checks cleared, deposits, etc.). Additional features include transferring funds between accounts and obtaining deposit interest rates.
NOTARY SERVICES
Do you have a document that needs to be notarized? Civic Bank & Trust offers quick and convenient notary services to witness and certify the authenticity of signatures and documents, or when you need a notary to administer an oath or affirmation.
SELF SERVICE STORAGE BOX
A self-service storage box offers a place to protect your valuables and safely keep important documents.