Identity Theft is a crime where people illegally use your personal information to create accounts in your name, or use your personal information for other illegal purposes.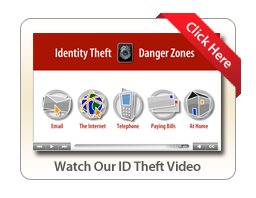 If you are a victim of Identity Theft you should take these steps immediately.
Notify one of the three major credit bureaus and place a fraud alert on your credit report. This can help prevent an identity thief from opening additional accounts in your name. Once the credit bureau confirms your fraud alert, the other two credit bureaus will automatically be notified.

Equifax: 800-525-6285
Experian: 800-397-3742
TransUnion: 800-680-7289
Contact your financial institutions and credit card companies.
Contact the local police department and ask to file a miscellaneous incident report.
Call the Social Security Fraud Hotline at 800-269-0271
Call the Federal Trade Commission at 877-438-4338
File a report with the Postal Service for stolen mail.
Help Protect Yourself from Identity Theft
Sign the back of your credit and debit cards.
Report lost or stolen credit cards immediately.
Cancel and destroy all unused cards.
Promptly collect incoming mail.
Shred junk mail.
• Don't drop your outgoing mail in your mailbox.
• Review your credit reports.
• Don't give out your personal information to unsolicited requests.
• Keep your personal information in a safe place.
• Learn more about Identity Theft by visiting the FDIC at: http://www.fdic.gov/consumers/theft/index.html